The Common-Core-compliant Mathematics with Robotics curriculum employs hands-on computing and robotics activities to boost students' interest and engagement in learning math (they learn while having fun!):
Explore thousands of Common Core compliant lessons and activities

Help make meaningful connections between abstract math concepts and real-life applications

Develop critical thinking and problem-solving skills

Allow personalized learning and exploration

Conduct collaborative learning and teamwork
Customize your use: Teachers may use the lessons and activities sequentially, following the suggested order in each grade-level course, or as a supplemental tool, choosing from among them as appropriate and needed (including activities from different grade levels to personalize activities for the variety of student levels in a class). The activities may also be used for both formative and summative assessments.
Prior coding or robotics experience is not required. We recommend that instructors review the "Getting Started with RoboBlocky" series of video lessons, which cover the basics of RoboBlocky. Instructors may then communicate the key concepts to their students, as appropriate, and/or have their students in Grade 3+ also view the videos.
The Mathematics with Robotics curriculum has had proven success in increasing student engagement and learning. One school in the Los Angeles area saw its 3rd grade math standardized test passing rate increase from 51% to 88% over a four year period, an increase of 72%! View 3rd grade students from this school with robots in action in this video, and see more of K-2 students learning math with coding and robotics in both English and Spanish through distance learning here.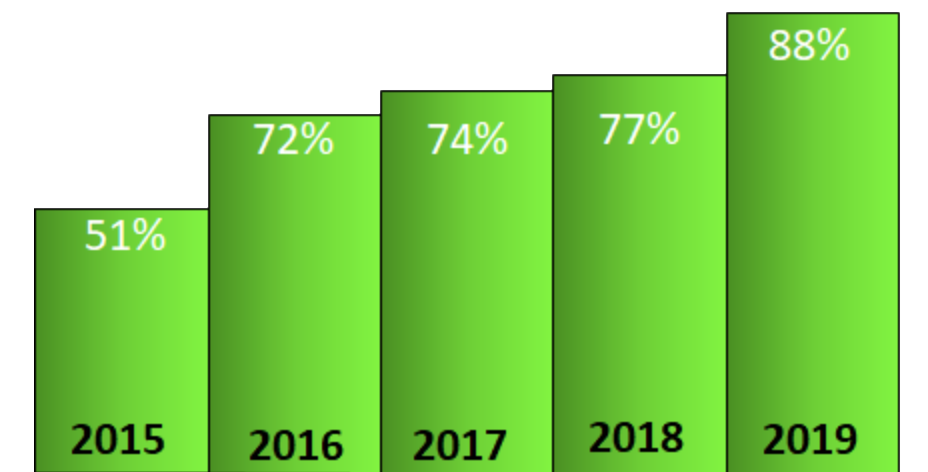 Increase in Standard SBAC Math Scores by 72% over 4 Years!
More success stories can be found here.